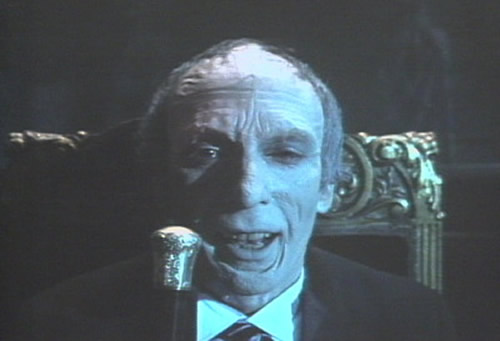 Zombos Says: Poor (but fun to raz on)
"Come again?" I asked.
"Cinderella. He wants to dress up as Cinderella for Halloween," said Zombos, glummer than usual.
"Okay. Why not?"
"What do you mean why not? No son of mine is going to—"
"Wait a minute," I interrupted. "Look, I'm on the phone here. I still can't find someone to come with me to see Saw IV. I'm sorry you've got issues with Zombos Junior dressing up as a princess for Halloween, but I need—Hello? I'm trying to reach an Elvis Mitchell. What? Retired? What the hell? Is Peter Travers there, then?"
Zombos moaned. "Oh, lord, dressing up as a girl! At least if he would be Prince Charming, I could accept that. I should have realized something was amiss when he preferred watching America's Next Top Model instead of the Goosebumps marathon. I blame Zimba for this."
"Maybe you can get him to dress up as Maleficent instead? Damn it all, he hung up. Who else can I call," I said to myself. I was desperate. I should review the bloody movie, but I can't take all that sadistic, gory torture stuff that keeps the Saw franchise alive. I needed moral support. And someone to tell me what happens when I close my eyes.
"Why do you need someone to hold your hand just to see a stupid horror movie. You should be ashamed of yourself."
"You're just mad Zombos Junior prefers Cinderella to that Jack Sparrow pirate costume you bought him. Look, so what if he's transgender? He's still your son, right? Maybe he's got an Ed Wood thing going. That would be super, wouldn't it?"
In the hallway, Zimba and Junior went running by. She yelled at him to give her high-heels back and to stay out of her makeup case. Zombos moaned even louder.
"Oh, bugger. At this rate, Saw IV will be on DVD before I get a chance to see it. Maybe I'll review that cinematic train wreck, Spookies, instead."
"I thought it was only available through Amazon UK?" said Zombos.
"That's right. But I just got my region-free DVD player, so now I can play all those nifty UK horror movies I've been dying to see."
"Count me in," said Zombos, looking for any diversion to take his mind off of Junior.
We headed to the cinematorium to watch Spookies.
If you're looking for the perfect second-half of a double-bill Halloween show with Plan 9 From Outer Space, look no further. Spookies is a movie to be savored for its underdone acting, overbearing dialog, and sheer incoherence. Rarely do horror movies reach this pinnacle of hilarious ineptitude.
Originally started as Twisted Souls, that unfinished movie gave birth to a spook show hodgepodge of 1980s makeup and monster effects colliding head on with badly edited additional footage from yet another unfinished movie, resulting in a two-headed storyline that never meets eye to eye (or should I say eyes to eyes?).
Billy (Alec Nemsir), possibly the dumbest thirteen year-old ever appearing on screen, runs away from home because his parents forgot his birthday. What that has to do with the two cars, filled with bickering couples from Brooklyn—judging by their accents—beats me, but they're in this movie, too.
The kid and bickering couples wind up at a decrepit sorcerer's ominously dark and creepy home: it's ominous because it has an old graveyard surrounding it. Billy is the first to enter the empty house. In the dining room he finds presents and birthday decorations, and quickly concludes his parents are throwing a surprise party for him; in a stranger's house. Billy doesn't notice the ominous cemetery or the creepiness. He admires the presents and opens the biggest box, asking out loud if it's a bowling ball. That's right, a bowling ball. High on every kid's birthday list, I'm sure. Instead, the sorcerer's smiling head is in the box. Billy screams and runs out of the house, straight into a freshly dug grave. One down, now it's time for the bickering couples to play their roles as proper horror movie victims, which involves acting dumb and dumber when it can cause the most bodily damage.
Now back to the two cars filled with the bickering couples. Oh, and there's one solo guy: he's the one with the sock puppet sitting alone in the back seat. And not a very good sock puppet. They wind up at the ominously creepy and dark mansion just when young Billy is coughing up dirt as a purple-faced werewolf buries him alive.
Yes, that's right, a purple-faced werewolf. Just go with it. Nothing in this movie makes sense so get used to it now.
The werewolf not only enjoys burying little boys alive, he gets a kick out of holding doors shut on people, but I'm getting ahead of myself. Couples and sock puppet guy enter the mansion to party hardy, and you know what happens to party people in horror movies, don't you? They die hardy.
The Sal Mineo look-alike insists on breaking into a padlocked closet and finds a corpse clutching a Ouija board. Ignoring the significance of a corpse CLUTCHING A QUIJA BOARD, Carly (Lisa Friede), the quiet, Ouija-savvy girl of the group, knows what to do with the planchette. They continue their bickering over what questions to ask like "will we get out alive," while we cut to the sorcerer (Felix Ward) playing a game of chess, although he never moves any of the pieces. He needs souls to revive his wife, who poisoned herself to get away from him. Finally, a little peek at the plot! Enjoy it while it lasts because a peek is all you get.
Carly becomes possessed by the sorcerer and goes after the others. As they run out the front door, zombies pop up out of the graveyard to stop them. They run back into the house screaming hysterically. You will be screaming with laughter at this point. The bickering continues forcing them to split up. That's another cardinal rule for victims in horror movies: split up to die more easily. Every lazy horror movie scriptwriter knows that one.
Let me recap this for you: with zombies outside, a demon-possessed Carly on the inside, a purple-faced werewolf holding doors shut on them, and a gloating sorcerer playing chess without moving the pieces, THEY SPLIT UP. At least they spend a few minutes bickering over the pros and cons of SPLITTING UP.
Here's where you notice the acting in no way attempts to accommodate the adrenalin-rush terror befalling them. The three directors--yes, I said three--must have been on a coffee break during these crucial scenes. With directors missing in action, the makeup and special effects crew indulge their fancies. The 1980s is THE decade for puffy, rubbery monster suits, herky-jerky animatronics, skittery stop-motion, and glistening, greenish-purplish makeup. You see all of it in this movie with varying degrees of success.
One by one, the blundering, bickering over-aged teens get taken out by one monstrosity after another. Interspersed between each tableau of gory doom, the sorcerer gloats in a bad, Lugosi-styled accent and summons more creatures of the night through Carly. And each time someone scrambles to get out of a room there's the purple werewolf outside, holding the door closed on one side while they pull hard to open it on the other.
The creatures encountered are like those you'd find on a Skywald horror magazine cover: there are the sod-men in the cellar, farting with each step they take  (I can now unequivocally say farting ruins suspenseful terror); there's the spider-woman (Soo Paek) that sucks the juices out of the annoying sock-puppet guy, actually deflating him as she slurps him up; there's the grim reaper statue coming to life with blazing red eyes and wielding a mean scythe; and there's a tentacled, sucker-fish-looking creature that shoots electric bolts. Go figure. The creations are fun to watch in action and help you ignore the messed up storyline.
While everyone is getting killed a la carte, the sorcerer's bride awakens and runs away. A witch-thingie stops her and forces her to run to the graveyard, where more zombies pop up and grab her in an overdrawn groping romp that needed splicing badly. She manages to break free long enough to run into the purple werewolf. There's no door between them, though. The end makes no sense whatsoever: it's done for visual flair only. Indeed, the entire movie is a series of visual setups, strung between the incongruous sorcerer gloating, party people screaming and dying, the purple werewolf holding doors closed with glee, and a bride loathing her predicament.
If ever there was a reason to throw popcorn at a movie screen, this is it.
This movie is so goofy nonsensical you'll love watching it while deriding the hell out of it. I'm surprised no one's made this a stage play yet. I'd love to see Spookies, the musical.